Posted on December 31, 2010
Hear are all the things I'd like to work on for 2011:
Live a healthier lifestyle. Being an active college student can really take a toll on your diet and eating habits. I would like to lose some weight before graduation. I really need to get motivated and disciplined in order for this to happen. Pray for me, my loves! :) Lol
Dress like the paparazzi is waiting for me outside every morning. I have some great pieces, but I NEVER wear them because I never seem to be in the "mood" so I end up wearing a cardigan with jeans & my Chuck Taylors or some flats. I have blazers and skirts and other things that I want to wear. I guess this is when I should start experimenting and piecing things together and make it work!
Increase my shoe collection. This is one of the reasons I don't wear all the things I buy. I don't have shoes to wear it with!
Post OOTD's. I want to share with you lovelies what I like and what looks I come up with.
Post more of my hair care regimen. Doing this will also help me keep track of what I'm doing to my hair and it may help someone who has hair similar to mine.
Wear makeup more often. Practice makes perfect, so that's the only way I'm going to get it down packed.
Learn to wear heels (tall ones too) for long periods of time. I get so mad when I see all these shoes I like, then I realize I can't walk in them. Nobody wants to buy heels they can't walk in. I love wedges though. I will be purchasing more of those too.
Expand Violet.

I want to see my magazine flourish and expand in '11. For those of you who didn't know, I chose to do an online magazine for my senior project. Now that senior project is over, I would like to continue what I started. Starting my own publication has always been a dream of mine. I've wanted to be a journalist and work in magazine since I was 16 years old. I got a head start choosing to do this magazine for my senior project. Now is the time to make my dream a reality.

Have a secure job in place & move into my own place. I'll be 23 in May and I'm also graduating in May. The recession is real and jobs in my future field are hard to come by since the field is so competitive. Living in a room has grown old too and I'm ready to have a place to call my own. I will continue to build my resume this last semester (and beyond) and start working again. I refuse to graduate and come back home!
Travel. I've never been to Florida, Illinois, Virginia, or Califorinia. My twin lives in San Diego and I want to see her. I want to take time out this year to travel and see different things. I haven't been to the East coast (NYC, New Jersey, Philly) since 2004 to visit my grandma. I was 16 in 2004 folks. It's about that time again. After I cover the States, I want to get my passport and explore overseas!
What are some things you would like to work on for the new year?
Labels: Lifestyle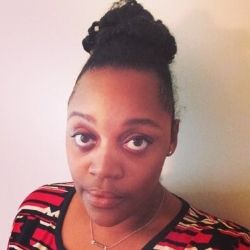 Just a 20-somethin' trying to find my way and be great.
You should Check out my writing portfolio.
Wanna talk? What are you waiting for? Email me already!