Posted on October 28, 2011
So I watched
Chelsea Settles
yesterday online for the first time and I wanted to come and share my thoughts on the show. I wanted to watch all three episodes so I could be caught up, but the first two weren't available on
MTV.com
, so I had to settle for catching the latest episode. After watching this episode, I'm officially a Chelsea Settles fan! The latest episode really hit home for me because my mother was sick and had to have major surgery a few years ago and I wanted to be at home to make sure she was okay and I did. She wanted me to leave my home and go to school somewhere else to see new things and live my life. Even though my mom's health wasn't always 100% and she appreciated my help, she didn't want me to stick around because of her.
I must admit, I got a bit teary-eyed when Chelsea was talking to her aunt about moving back home to help her mom out because that was me 3+ years ago before I transferred to my alma mater. Leaving a parent behind with health issues isn't easy at all. Chelsea and I have a few things in common: We're both recent college grads, young black women, plus size women just trying to live out our dreams. I must say that I love her roomie Jenna too! She just seems so cool and laid back and she's a very positive and optimistic person.
All in all, Chelsea Settles has won me over so far after one episode!
Labels: Discussion, Health & Fitness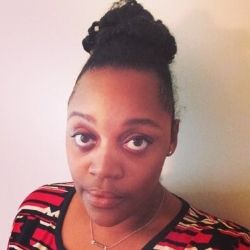 Just a 20-somethin' trying to find my way and be great.
You should Check out my writing portfolio.
Wanna talk? What are you waiting for? Email me already!