Posted on November 16, 2011
Last Thursday I traveled back to Nashville for my alma mater's homecoming. I didn't take a lot of pictures like I have the past two years and I didn't do any partying this time, but I'm glad I got to go to the parade and tailgate and see all my friends because I missed them. It felt so good participating in homecoming week as an alumna this time around and it felt good to be missed by all my friends.
I wanted to make sure I got some pictures of my hair since I decided to do a flexi rod set to rock during my trip and it turned out great! I got a lot of compliments too. I'll definitely be rocking my hair like this once spring hits. I used 5/8 in. rods in the front and 3/4 in. rods in the back. I did this set on freshly co-washed hair and I used a little bit of my African shea butter on each strand before putting them on the rods to moisturize and seal the hair. I just pulled a part the rest of my curls yesterday so I can co-wash it today and my hair is still soft a week later! That was my first time using the shea butter and I really love how it left my hair feeling. I used just enough on each strand because a little goes a long way and my hair is fine so I can't get too heavy handed with thick products like that. Here are a few photos of me chilling in my car after the parade on Saturday morning. :)
Face of the Day:
Wet n Wild
Color Icon Trio in
'Knock On Wood'
; Maybelline Fit Me liquid foundation & powder in
355 Coconut
, L.A. Colors Moisturizing Lip Gloss in '
Sugar n' Spice
', L.A. Colors blush in
Toast
.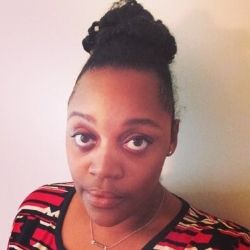 Just a 20-somethin' trying to find my way and be great.
You should Check out my writing portfolio.
Wanna talk? What are you waiting for? Email me already!