Posted on December 27, 2011
I've been longing to try these lip glosses for the longest time and I finally picked up four of them at Ulta last week and I have to say that I am in love!
Kiss me quick! Our signature Mega Shine Lip Gloss delivers shine, moisture and softness and envelops lips with glistening color. The finish is both creamy and steamy and ensures knockout glamour. A blend of mineral and lanolin oils helps protect the pout. Available in 64 almost sinful lip gloss shades.
I wanted some nice lip glosses that would be moisturizing, not too thick, runny or sheer and would give me nice lip color and these glosses met all of my requirements. There were so many shades to choose from, but I wanted to keep it simple with nudes and light pinks for my first purchase. I definitely plan on venturing out with my color choices the next time I purchase more lip glosses. They're usually $5.49 a piece at Ulta, which is about $1 or $2 cheaper than regular drugstore lip products and the quality is great!
Here are the swatches:
(top to bottom): Natural, Beige, Smokey Look, La~La~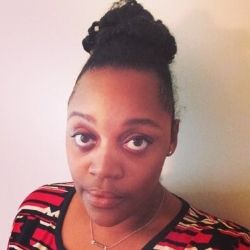 Just a 20-somethin' trying to find my way and be great.
You should Check out my writing portfolio.
Wanna talk? What are you waiting for? Email me already!