Posted on January 28, 2012
I took my hair out of my plaits last night since I plan on co-washing and deep conditioning later on today so I decided to see if my hair was long enough to make a decent sized puff and sure enough, it was! It'll be a month since I cut my hair on Thursday (Feb. 2) and it seems like my hair has grown already!
I've been using small plaits and wearing a wig to work for the past 2 weeks and co-washing so I think that's really been helping. I recently purchased some castor oil and aloe vera juice to add to my hair regimen. After I use it for a while, I'll be sure to share my results with you guys!
Labels: Hair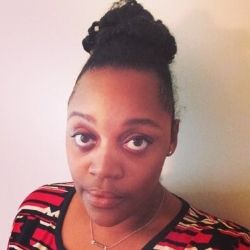 Just a 20-somethin' trying to find my way and be great.
You should Check out my writing portfolio.
Wanna talk? What are you waiting for? Email me already!