Posted on January 10, 2012
I've been natural for a week and I can truly say I'm glad I BC'ed when I did. It's so easy to wash and detangle my hair right now since I let go of the raggedy relaxed ends and my hair is a little shorter for the time being. I whipped up a shea butter concoction and I've been using that on my hair when I do my two-strand twists and it seems to leave my hair pretty soft. I'll give a more in-depth post on this concoction and share it with you guys once I use it more see some results. I definitely want to keep track of my growth and products I experiment with too.
I decided to have some Photobooth fun after taking down my two-strand twists. :) Oh, and my hair in the back seems to be finer and softer than the rest of my hair for now. It's still hard to tell because I try to keep my hands out of my hair if I'm not washing, conditioning, etc.
Labels: Hair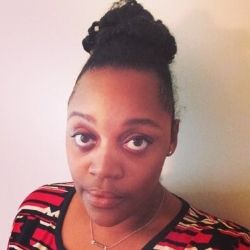 Just a 20-somethin' trying to find my way and be great.
You should Check out my writing portfolio.
Wanna talk? What are you waiting for? Email me already!