Posted on January 3, 2012
I big chopped yesterday! I know I haven't shared a whole lot of my hair care journey/transitioning journey with you, but I decided to big chop earlier than I originally planned.
The Story:
My last relaxer was January 2, 2011 and I normally stretched my relaxer 3-4 months a part so around April or May would've been my time to relax again, but I didn't. I had been thinking about transitioning on and off for some time, but I decided that I didn't have the patience to do it, so that's the reason why I relaxed on 1/2/11. Fast forward to June 2011 and that is when I decided not to get another relaxer and transition. I thought I would've transitioned for 13 or 14 months before cutting, but after I took down my last set of two-strand twists last week and looked at the new growth: relaxed end ratio, I decided to chop them off. I was so tired of the raggedy ends tangling together and with my new growth. Had I continued to transition, I probably would've had to cut more off due to breakage because of my ridiculous relaxed ends. So on January 2, 2012 (yesterday) I got up, washed my hair and chopped it off! I cannot wait to see my hair 3 or 4 months from now!
Labels: Hair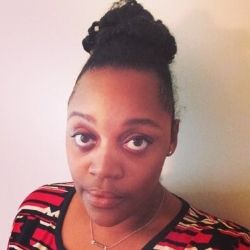 Just a 20-somethin' trying to find my way and be great.
You should Check out my writing portfolio.
Wanna talk? What are you waiting for? Email me already!