Posted on February 2, 2012
Today marks one month since my big chop and I'm happy I made the decision to cut it when I did. It was at the beginning of the year so it kind of symbolized a fresh start for my hair and just kicking off the new year differently. New year, new stuff! I love my texture and I can't wait for it to grow so I can experiment with more styles and share my hair triumphs (and fails) with you guys. Hopefully I can help someone during their hair care journey like my favorite bloggers did during my relaxed, transitioning and now natural hair care journey. The picture below is my hair on January 2, 2012, literally 30 minutes or so before I BC'ed. My relaxed ends were horrid.
Twistouts and flexi-rod sets were my go-to styles while I was relaxed and wanted that curly look. I can't wait to try twistouts on my natural hair and we can't forget about the wash & go!
January 2, 2012
Labels: Hair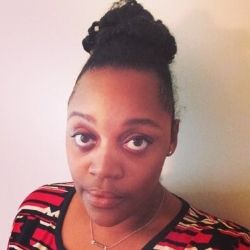 Just a 20-somethin' trying to find my way and be great.
You should Check out my writing portfolio.
Wanna talk? What are you waiting for? Email me already!