Posted on December 21, 2012
When I think of extremely talented, yet underrated artists JoJo is one of the first to come to mind. She's been one of my favorites since she was singing on the floor of the locker room telling her no-good beau to Leave (Get Out).
She released her first mixtape Can't Take That Away From Me in 2010 and my life mantra and anthem, All I Want Is Everything is featured on it. Her record label fiasco has prevented her from releasing her third LP, Jumping Trains, but she recently decided to scrap it and start over with fresh music.
She started by releasing her second mixtape AGÁPĒ on her 22nd birthday yesterday. She went for a more raw sound with AGÁPĒ including interludes featuring her relatives at a family gathering and her partying with friends . She released We Get By and André earlier this month as a sneak preview of the tape and I love both of those records! I also love the intro, Back2thebeginningagain. Listen closely and you'll see why. All in all, it's another dope project to add to my JoJo collection.
Her artistry and vocals are everything and I can't wait to see her blow up. She deserves all the success in the world. She has a genuine passion for music and raw talent and I can't wait for her to blow! Team JoJo all day!
P.S. She knows I'm here for her and she's here for me. I stan!
Labels: Music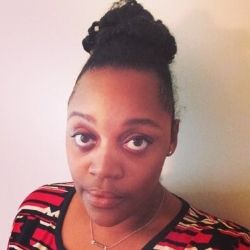 Just a 20-somethin' trying to find my way and be great.
You should Check out my writing portfolio.
Wanna talk? What are you waiting for? Email me already!