Posted on January 21, 2013
After watching some of my natural hair girls on Youtube (Ms. Danti & CharyJay) use and review these products, I wanted to try them for myself so I ordered their sample size kit while they were offering 5¢ shipping in addition to the $5 coupon code they gave me. Here's the breakdown of my experience with Entwine Couture.
They gave me a $5 coupon code and guaranteed my money back if I didn't like the products.

Shipping and handling was extremely fast, which is an A++ in my book because I hate waiting 4 or more days for stuff to come in the mail.

The packaging is very cute, fun and colorful! Presentation is everything!

The sample sizes were very nice in quantity.
Now for the breakdown of each product.
Exotique Butter Creme Hydrator: - I wasn't crazy about the smell at all. It actually smelled like a relaxer, but the product was lightweight, moisturizing and went on the hair nicely. It wasn't heavy or greasy at all which is plus since I have fine hair.
"The Manipulator" Creme Jelle Styler: The texture felt just how how it is described in the name. It was a creme with a gel-like consistency. I wasn't crazy about the smell of this product either, but I love how lightweight and moisturizing this product was as well.
"Total Perfection" Argan Oil: I've purchased argan oil so there I wasn't surprised by how amazing it smelled! I used this to take my twists down the next day. Argan oil is a heavier oil so a little goes a long way for me. I love the packaging it came in.
"On The Edge" Creme De La Mold: This product smells very nice and has a very thick consistency. It promises maximum hold so I used it for my edges and it got the job done. It wasn't greasy at all and it gave my edges a nice, smooth finish.
All in all, I loved the sample kit and I will definitely be purchasing their full size line of products in the future!
*NOTE:
I used these products on dry hair to re-twist my hair for the next day and I did purchase these products myself.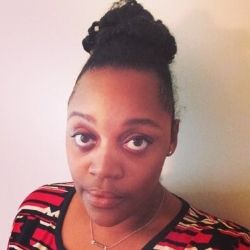 Just a 20-somethin' trying to find my way and be great.
You should Check out my writing portfolio.
Wanna talk? What are you waiting for? Email me already!