Posted on September 5, 2016
I moved into my first apartment almost five months ago and I wanted to share the things I learned along the way.

If you're moving out on your own for the first time and you're not sure where to start, I hope this provides you with some insight to make your transition smoother.
·
First and foremost, create a budget. Be mindful of your monthly income and go from there. Be sure to include your current bills along with your future bills (cable, utilities, etc.)
Save. Save. Save.
If you don't already have a savings account, now would be the time to start one. Most banks only require $25 to open an account. Open an account and deposit $25 (or whatever you can afford) into your savings once a month.
Do your research. You can check out sites like ApartmentGuide.com, Apartments.com, ForRent.com and of course good ol' fashioned Google, which is how I found my apartment complex.
Be sure to schedule an appointment to tour your prospective place.
While you're on your tour, be sure to ask about your desired amenities. Will water, trash and sewage be included in the rent? Are there fees for having a pet or using the carport and garages on the property?
Ask about cable bundles that may be mandatory.

Some complexes may have an agreement with your local cable provider.
If you want a pool, gym, fireplace or any other amenities, be sure to inquire about those things during your tour.
·
Read the fine print before turning in your application.
The first complex I applied to wouldn't refund my security deposit after I canceled the move-in date when I got approved for my first choice. That could've been $150 back in my pocket, but I was on a tight deadline to find a place and didn't read the fine print thoroughly. Even if you think the rental office explained everything to you, be sure you read over everything for yourself and ask any questions before you submit your application.
·
Be persistent. My complex doesn't have a waiting list so everything is first come, first serve. They weren't able to tell me when a unit would be available right away, so I literally had to call, email and drive to the rental office to make sure I had first dibs on a place by my desired move-in date and I got in!
·
Inspect your future haven. If there's any damage to the place (i.e. dirty carpet, chipped paint, etc.), be sure to take pictures and inform your rental office before you sign the lease so you're not held responsible when you move out. You wanna be able to get that security deposit back, girl!
Hire a moving company. If you've saved a decent amount of money and you don't want the hassle of having to round up family and friends to help you move, hire movers. I was only moving my bedroom furniture so I used
You Move Me
. They were reasonable, friendly, and quick. They even gave me a plant as a housewarming gift! You can always research other moving companies in your area. Most companies charge by the hour and may also charge based on distance, so keep that in mind.
Do not procrastinate! Moving little things from Point A to Point B was a pain towards the end because I was just ready to get it over with. Not to mention, we were moving off the third floor. Any small things such as clothes bins, etc. that can be moved by the company you hire, have them throw it on the truck and save yourself some time and energy. If you get your keys before your actual move-in date, take things to your new place little by little to lighten your load towards the end.
Last, but not least, enjoy your new home! Make it your own and make it a place you can't wait to come back to after a long day.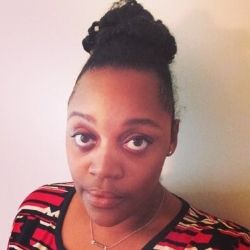 Just a 20-somethin' trying to find my way and be great.
You should Check out my writing portfolio.
Wanna talk? What are you waiting for? Email me already!