Posted on November 27, 2016
Does your skin feel tight after washing your face? Do you get flaky in the fall and winter months? Have you tried organic ingredients in hopes of combatting the dryness and you're still flaky like a biscuit?
If you answered "yes" to one or more of these questions, you are not alone girl.
I decided to try high end skincare products for the first time last year around this time and my skin has improved so much since then.
The Vitamin Hydrating Mist gives an extra boost to the skin and I love the smell!
After a few nights of using these products, my skin felt totally different. My skin has definitely improved over the past year thanks to FAB's products.
If you have dry skin like I do and haven't been able to get a routine down that works, don't fret! Sometimes it may be the products you're using or your routine needs to be tweaked. Using a gentle cleanser along with a good serum and moisturizer have been my saving grace. I absolutely love that I got to try the moisturizer and night cream in the set, but you can definitely find a moisturizer that can be used in the AM & PM. Fresh Beauty's Rose Deep Hydration Face Cream is awesome for that.
I finally bought my Foreo Luna Mini 2 after a year and some change and I'm so glad it did. This device paired with my FAB Face Cleanser is a God dream. My skin is even softer than before. I definitely recommend investing in one.
Start out with a simple lineup of products to keep your routine simplified, then you can slowly begin to add and take away products depending on what's best for your skin. I really hope this helps.
If you have dry skin and you've stumbled upon some awesome products, let me know in the comments. I'm always looking for new stuff to try.
In the meantime, check out some of my favorite "dry skin approved" products below!
After a couple of trips to Sephora, I decided to pick up First Aid Beauty's Peace, Joy & FAB Kit last year during the VIB sale. This gave me a chance to try multiple products from the same line without breaking the bank and I got at least three full-sized products in the set.
Pro-tip: If you're looking to try new skincare products, now is the time to rack up! There are all kinds of holiday sales and everybody is selling holiday sets, which will give you the opportunity to try different products without breaking the bank.


If you have dry or sensitive skin, I highly recommend trying First Aid Beauty's products.
My favorites are the Face Cleanser, Ultra Repair Hydra-Firm Sleeping Cream and the Ultra Repair Cream.

The Ultra Repair Cream has a whipped consistency, but it's thick enough to combat dryness, especially during colder months. This cream can be used all over the body, but I only use it for my face. It also has oatmeal in it, which is awesome for dry skin. If you're looking for a face cleanser, this one is perfect! It's extremely gentle and it won't leave your skin feeling stripped, which is why it's officially a holy grail product for me. I also love the night cream. After a few days of using the night cream before bed, I noticed how moisturized my skin was the next morning.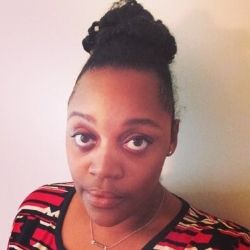 Just a 20-somethin' trying to find my way and be great.
You should Check out my writing portfolio.
Wanna talk? What are you waiting for? Email me already!