Posted on February 11, 2018
Does your skin feel tight after washing your face? Do you get flaky in the fall and winter months? Have you tried organic ingredients in hopes of combatting the dryness and nothing works?
If you answered "yes" to one or more of these questions, join the club!
I decided to try high-end skincare products for the first time in 2015 and my skin has improved so much since then.
It's hard to figure out what works best for your dry skin when it seems like everything is geared towards the oily/combo girls.
If you have dry skin and haven't been able to get a routine down that works, don't fret! Sometimes it may be the products you're using or your routine needs to be tweaked.
I bought my Foreo Luna Mini 2 and I'm so glad I did. If you're not into gadgets, an inexpensive face brush will do the trick. It's a must to make sure you're getting rid of dead skin and deep cleaning, especially if you wear makeup on a regular basis.
Start out with a simple lineup of products, then you can slowly begin to add and take away products depending on what's best for your skin.
Using a gentle cleanser along with a good serum and moisturizer have been my saving grace. I also like to use a face mist, especially when wearing makeup. If you're afraid of toning, say no more! Try an essence instead. It helps to remove extra debris from the skin and keep it balanced. Caudalie's Vinoperfect Concentrated Brightening Essence has been my go-to for a few months and I love it.
If you're looking to try new skincare products, you can always ask for samples at Sephora or speak to a skincare expert.
If you have dry or sensitive skin, I highly recommend trying First Aid Beauty's products. It was the first high-end brand I tried and it did wonders for my skin.
P.S.
I plan on doing a more in-depth post on ingredients to look for while skincare shopping. To my dry girls, hyaluronic acid will be your best friend!
If you have dry skin and you've stumbled upon some awesome products, let me know in the comments. I'm always looking for new stuff to try.
In the meantime, check out my favorite dry skin approved products below!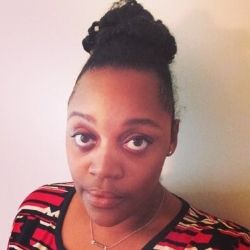 Just a 20-somethin' trying to find my way and be great.
You should Check out my writing portfolio.
Wanna talk? What are you waiting for? Email me already!